If you're waiting to bet a game at a certain line, the 'Line Move w/ Threshold' alerts will be very helpful. This feature allows you to enter a specific line and be alerted when/if the number moves there.
First, head to your 'Alerts' tab after you click on the game you're interested in. Tap on the + symbol next to 'Line Move w/ Threshold' to set up your alert.
From there, a box will pop up where you can enter the line you're looking for. You can toggle between spread, moneyline and total, as well as each side.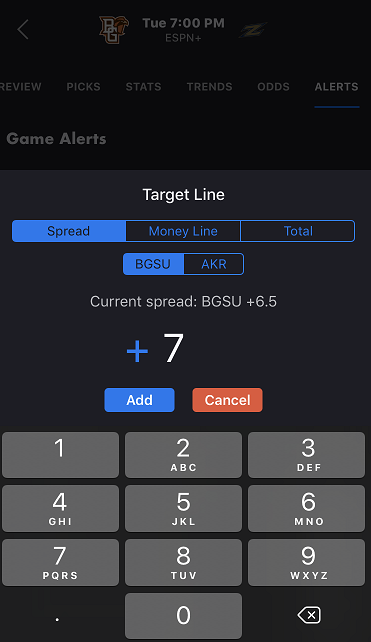 In the example above, Bowling Green is +6.5, but you want to know when they reach +7. Once you add the line, you'll see it listed in your 'Alerts' tab. You can click the - symbol next to the alert if you're no longer interested in being alerted on it.
Once the line reaches the number you're interested in, you'll get an alert that looks like the one pictured below. If the line never reaches the desired number, you won't be alerted.
If you're just interested in seeing line movement regardless of what number it moves to, you can use the normal Odds Alerts (spread movement, moneyline movement, etc.) without using a certain threshold.